Kids and virtual worlds
Linda Giannini, a teacher, educational researcher and scholar, explains her work with 3-5 year old children, using virtual worlds. The work as it involves children interacting in tri-dimensional chatspaces with adults, who are willing to "virtually" create – with 3D constructions – the children's desires.
Activity concept
The following is a research work, since adults are engaged in verifying the impact of new communication technologies in children, taking note of behavior, hypotheses, graphic realizations, as well as of the memory itself of such experience. A mixed community is thereby created, involving: teachers, parents, children, and people not directly related to the school world. Communication occurs via chat, e-mail and telephone, giving rise to a strong social interaction.

This new solution of virtual community for the (3-5 years old) child has a strong social-educational and pedagogic impact. We believe that this virtual community is well suited for reflections on experience and on the analysis of the behavior resulting from it.
New solutions for virtual (and real) communities - Internet for the child
"What is real, what is virtual and what do we mean as image of something which is real?"
Philosophers and scientists have long debated it, and we do not pretend to answer this question: we would only like, with the opportunity we have, to tell you how school-children aged three, four and five are working on these questions, and how they are interacting with a tri-dimensional chat: Active Worlds.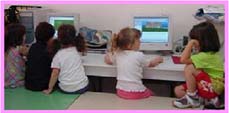 Resources and materials needed by teachers to carry out activity
-ActiveWorlds Software
- Camera to take photographs
- Digital camcorder
- Computer (in classroom)
- Internet (ADSL connection in classroom)
Info from:
http://www.activeworlds.com
Home of the 3D Chat, Virtual Reality Building Platform

As it says on the site, "Active Worlds, the web's most powerful Virtual Reality experience, lets you visit and chat in incredible 3D worlds that are built by other users. Think you have what it takes to build your own world or Virtual Reality game? Active Worlds is the place for you, where in minutes you can create fascinating 3D worlds that others can visit and chat in. The Active Worlds Universe is a community of hundreds of thousands of users that chat and build 3D virtual reality environments in millions of square kilometers of virtual territory. Take a quick look at some of our satellite maps and see how our community has grown over the years. Launch the free software and come check us out for yourself."

In Active Worlds you can:
• Build your own 3D virtual reality home on the Internet;
• Shop online in our own 3D virtual reality mall and chat with store clerks;
• Explore over 1000 unique virtual worlds;
• Make new friends and chat with people from all over the globe
• Play interactive 2D and 3D games;
• Choose from a vast range of avatar identities and chat with other avatars.
Existing materials
Online documents
- http://www.descrittiva.it/calip/aw_en/index.htm
- http://www.descrittiva.it/calip/virtual_en/aw.htm
- http://www.descrittiva.it/calip/nir99.html
- http://www.descrittiva.it/calip/tutto99_00.htm
- The adventures of Narnia
- The adventures in AW-Edu
Videos
| | | | | | | |
| --- | --- | --- | --- | --- | --- | --- |
| 1.54 mb | 69.5 kb | 1.36 mb | 3.15 mb | 2.05 mb | | ls |
Results of work in schools
- Photographs
- Videos
- Reports
Existing projects to be involved
- Intercultural Education Alliance (IEA)
- CyberChat Project
- Symmetry