First steps into cybernetics - robots and bricks
Linda Giannini and Carlo Nati, two education researchers have worked on this peer to peer learning project, involving 3-5 year old kindergarten pupils; 14-16 year old pupils and trainee teachers. It shows how microrobotics and practices of constructionism can be integrated into a problem-solving approach to learning.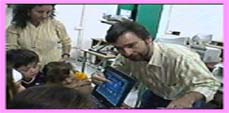 Activity concept
The experiments were developed with a team of teachers and supported by some external partners: Intel, Lego Educational and Mediadirect. The core of the experiment can be represented by a set of microrobotics empirical performances and training activities based on the Robolab software. It was an attempt to link, each other, a group of learning activities developed by different school levels, from the nursery to the secondary school, and during which pupils and teachers had to change their roles inside the classroom. Afterwards this kind of strategy was analyzed in pre-service teacher training courses at the University of Rome (S.S.I.S art and drawing).
On one side it was a sort of situated and pragmatic activity where knowledge and the world were both constructed and constantly reconstructed trough personal experience but overall, on the other side, the most important thing was that pupils had to explain and represent to other pupils what they learned about building and interact with small robots. In this way teachers could observe their emotions, a lot of different approaches to solve and talk about the same problem and how they maintained or change their theories during a significant period of time.
Resources and materials needed by teachers to carry out activity
Kit http://mindstorms.lego.com/eng/default.asp
Equipment for technical drawing
Camera to take photographs
Digital camcorder
Background information about how to create an algorithm
Background experience about to divide a problem in a set of subproblems
Existing materials
Online documents
Percorsi_llmm
0304-percorsi_lego
0405-percorsi_lego
EXPO E-learning Conference: Ferrara 12/10/2004
Robolab-Colombi-Giannini-Nati
Synthesis of the experience: Power point file
http://www.descrittiva.it/calip/0304/robot.ppt
Results to be uploaded to portal by schools
- Photographs
- Videos
- Algorithms
- Robolab code
- Conceptual maps
- Reports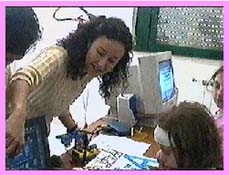 Existing projects to be involved
Future of learning – Mit Media Laboratory:
http://learning.media.mit.edu/projects.html
Intel Teach program:
Microrobotica in rete
Programma Intel® Teach program
Building Cybernetics toys:
Costruire giocattoli cibernetici
Costruiamo un robot
Programmare un robot
Pedagogy and ICT:
Progetto CAB
Io bambino tu robot
School of Robotics
Open and Distant Training
Techniques for Small and Medium Enterprises
Robolab Conference